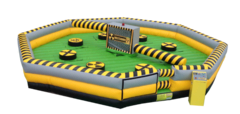 Toxic Meltdown
$1,200.00
Meltdown is our 8 player action game, which challenges your stamina, agility, and reactions. Not one but two spinning boom arms to try to knock off your podium. You have to duck underneath or jump over the foam boom. Who will be the last one standing? There is a variable speed control on the console that increases or decreases the speed of the automatic program, making it as easy or difficult as you wish! The Toxic Meltdown is a fun game for the whole party! This interactive unit is great for large events where you want the whole crowd flocking to this activity. All ages are welcome!
Price includes:
- 1 staff member to operate
- 2 hour rental
- Option to add additional hour(s) for $100/per hour.
Generator can be added for an additional fee.